"POKEMON"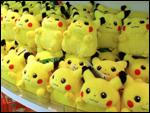 They look cute and harmless. They are colorful cartoon characters with funny names and strange powers. Parents, who often complain that they can't even understand what the craze is about, know one thing for sure: kids will often do just about anything to get their hands on anything Pokemon.

And various recent Pokemon-related crimes prove this. On Wednesday, a nine-year-old boy in search of Pokemon fantasy instead got a strong dose of reality. Hidden among the aisles of a Bridgeport, Conn. store, the boy waited patiently for closing time. What was he after?

The target was 44 packs of Pokemon cards, and the boy planned to sneak out with his precious cargo after everyone left. The scheme went awry when the boy got locked in and had to call 9-1-1 for help. He was released by police into his grandmother's custody pending a court hearing.

Hundreds of miles away, a Tucson boy pleaded not guilty to charges that he pulled a knife on a fellow student, robbing him of his Pokemon cards. The 11-year-old suspect's lawyer requested a competency evaluation to assure that his client is fit to stand trial. Currently, the trial date has been set for January 13.

In the southeast U.S., South Carolina police say they have the culprit in the smash-and-grab theft of $1,500 worth of Pokemon trading cards — a 14-year-old boy. He was arrested this week after reportedly bragging to friends about his weekend heist, said Dave Wernet, the owner of targeted store, Raw Coins.

The shop's glass window was smashed with a shopping cart, destroying the front of the store but setting off no alarms. Wernet said the thief was able to sneak in and move below the range of the motion detector that would have set off the burglar alarm.

Apparently, the thief was a completely loyal Pokemon enthusiast — the store's rare coin collection, worth thousands of dollars, were left completely untouched.
"It just amazes me that with $20,000 in rare coins sitting here, they take off with the cards," Wernet said.

Police have recovered about $250 in stolen cards, but the rarest cards, worth $5 to $30 each, were still missing, Wernet said Tuesday.

And in Philadelphia, there are reports of a full-fledged Pokemon crime wave. Police say nine Philadelphia youngsters have been attacked and robbed in the last three weeks by thieves in search of the popular trading cards.

According to reports, the attacks have occurred mostly in South Philadelphia and have been getting increasingly violent, perhaps in response to last month's release of the Pokemon movie and a subsequent Burger King promotion of the cards.