(Newberry and Caldecott Winners for 2000)
Newberry Winner Announced!



For the first time in 22 years, an African-American writer won the award."

(The best children's book published in America)




"Bud, Not Buddy" is the story of a 10-year-old motherless boy in Flint, Mich., who believes that his father is a legendary jazz band leader.


'CELEBRATES LIFE, FAMILY, SPIRIT'
"This heartfelt novel resonates with both zest and tenderness as it entertains questions about racism, belonging, love and hope," Carolyn S. Brodie, chairwoman of the Newbery selection committee, said in a statement. The novel's "fast-paced, first-person account moves with the rhythms of jazz and celebrates life, family and a child's indomitable spirit."

Curtis, who uses the children's section of a Windsor, Ontario, public library as his office, said he planned to celebrate by meeting a few of his buddies at a gym for a game of basketball. At 6 feet 2 and 250 pounds, Curtis, 46, likes to set a mean pick. "As I've gotten older I've gotten slower," he said. "I compensate by being awkward." He writes slowly, too, by hand. "Until the character comes to me," he explained. "Then the story really explodes."



'A REAL UPPER'

Taking home a rare double-double in kid lit awards, Curtis also won this year's Coretta Scott King Award, which honors an African-American author for outstanding work. Sarah Long said everyone was amazed that two separate and distinct juries of librarians independently selected the same book. "That just shows that 'Bud, Not Buddy' is a tremendous book," she said. "That was kind of a real upper."
Curtis wrote the story after attending a family reunion and hearing mythic tales of his grandfather's 1930s combo: Herman E. Curtis and the Dusky Devastators of the Depression. "Grampa was a real hustler," Curtis said. "He couldn't make money just as a jazz man." So the group also performed polka tunes and country chestnuts.
The band leader played the bass fiddle, violin and piano, Curtis said. "Oh yes, and the accordion. But I don't think that's anything to be proud of."

The author doesn't play an instrument, but he does write honored books. His first novel, "The Watsons Go to Birmingham — 1963" was a Newbery Honor Book, or runner-up, in 1996.

For the past six years or so, Curtis has written full time at his library table. Before that he was unloading trucks at a check-processing warehouse and before that, he was standing on the assembly line at the Fisher Body Flint Plant No. 1, putting automobiles together. He gave much credit for his success to his wife of more than two decades, Kaysandra, a registered nurse who several years ago encouraged him to quit his day job and try his slow hand at writing.



WILLING THE PHONE

TO RING

They have two kids: Son Steven is in the Navy, daughter Cydney is in the third grade. Curtis said he spent Monday morning "trying to will the phone to ring from Texas."
The committee called around 9:15 with the tidings. Soon after, Wendy Lamb, Curtis's editor at Delacorte Press — a division of Random House — called to congratulate him.
In New York, Craig Virden, president and publisher of Random House children's books, said 65,000 copies of Curtis's book are already in print. He said the book will be reprinted based on demand.

In Windsor, Curtis had other things on his mind. He excused himself from a phone interview. He wanted to hustle over to the basketball court, his wife explained, so he'd have next turn.



* * * * *

Caldecott Winner Announced!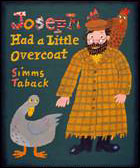 "Joseph Had a Little Overcoat," illustrated and written by Simms Taback — won the 2000 Caldecott medal.

(Most distinguished American picture book for children.)




CREATIVELY DWINDLING OVERCOAT

Simms Taback, meanwhile, was fretting about what he was going to wear on the "Today" show this morning. When Taback received the call at his winter place in Sebastian, Fla., Monday, he realized he had left all his warm clothes at his Woodstock, N.Y., home.

Midday temperatures in Manhattan were in the teens. "I'm completely overwhelmed," said Taback, 67, who has been illustrating books for 35 years. He's done some 40 adult and children's books.

"Joseph" is a craftily concocted Yiddish folk tale of a clever man who retools his old overcoat into a jacket, then a vest, then a scarf, then a tie. You get the ever-dwindling picture.

For his pictures, Taback has won awards before. "But this is the Caldecott!" he said Monday. "For kind of a struggling illustrator, it just could be a big payoff."
Viking Children's Books spokesman Timothy Moses agreed. Winning the Caldecott Medal, Moses said, means that "Joseph" — with an original printing of about 20,000 copies — should sell between 100,000 and 150,000 copies over the next year and would remain strong on Viking's back list for many years to come. Taback, Moses added, "will be able to pay his great-grandchildren's college tuition."


* * * * *