* * * * *
Cool Sites for Kids ages 5-12
* * * * *
Disney's Family.com
Prepare to spend several hours just skimming the choices at this site. "Activities" has everything from Boredom Busters and crafts to activities and games. Choose the level of these options by age. (Lots for parents too!)



Fox Kids
Check out what's new on Fox Kids. Join the Fox Kid's Club, enter contests and play games.

Making Friends
Excellent craft ideas for ages 5-12, but includes a special section for preschoolers.




Muppets
Play a game, read a joke or sneak into the Swedish Chef's virtual kitchen. All your favorite Muppets are there.




Nickelodean
Go "Inside Nick" for games, contests and TV trivia.


Storybook Station
Answer a few questions and create a personalized story. Print them all out and make your own personal book.




I'm a Kid in Grade...
Lots of information and fun for kids of all grades. Just click on the appropriate grade level from preschool to teens and find activities for your age.

Nintendo Power Source
Welcome to the World of Nintendo! Find codes and great tips for your favorite Nintendo64, Super NES or Game Boy games.




The Art Room, Outrageous Thinking
Being an artists involves much more than simply making pictures. This site helps you think like an artist and checks your artistic abilities.

Beanie Babies Games
If you love Beanie Babies, you'll love this site. Play "Who's that Beanie?", or work a crossword puzzle or two. Lots of different games to play. Also a link to "101 Things ToDo With Beanie Babies"

Garden of Origami
From Beginner to Master, this site will challenge any fan of Origami. Go fold some paper!




Goosebumps!
Turn out the lights, listen to the wind howel outside and watch the goose bumps raise up on your arms! A great site if you like getting scared!



Animorphs
The popular kids who 'morph' into animals are more fun than a barrel of monkeys.

The Babysitter's Club
Join the Babysitter's Club Site and get ready for an adventure.

The Magic School Bus
Go with this team of classmates and their teacher into some of the most bizarre places and situations a shrunken bus can go!

Star Child Young Astronomers
Lots of information on our universe and solar system. Check out the question of the month and other space related links.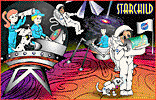 Kids Net
Arts and Crafts, Coloring Pages, E-Zines, For Preschoolers Only, Fun and Games, Homework Help, Sports and Young Writers. If it's not here, then it doesn't exist!

Blue's Clues
Meet Blue and her friends. Lots of action, fun and activities.




Little Bear
Join Little Bear and his friends while they read a story or color pictures. Lots to do here, and great fun.




Franklin
Hey it's Franklin...come on over to my house. Join this hip turtle for activities, crafts and lots of fun.




CTW Family Workshop
Tons of games for preschoolers, lots of activities and parent information and even some family fun.

Fun School
Interactive learning activities for preschool children through second grade. Good variety of puzzles, coloring and matching games.

Jay Jay the Plane
Meet Jay Jay the Jet Plane. Read a bedtime story or choose from a variety of coloring pages.




Welcome to Barney's Home
Join Barney's fan club or subscribe to the Barney Magazine. Lots of coloring and connect the dots. There's even Karaoke!




Zoboomafoo
Meet Kratt's creatures and play lots of fun games at this site. Also links to other PBS children's sites.




Art Recipes
Easy to make recipes for play dough, finger paints and more!

These are the Letters of the Alphabet
A wonderful site to teach preschoolers the alphabet. Created by a father for his son, bright colors, sentences and animations are used. A great teaching tool!

Coloring Corner
Color you favorite Warner Bros. cartoon characters online! Java and Shockwave required.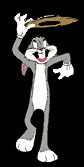 Enchanted Learning
Lots of crafts, games, nursery rhymes and jokes at this site.

Pokemon Gifts Online
Looking for Christmas Gifts for almost any kid, of any age? Check here for the latest Pokemon gifts.


* * * * *
Cyberangels is the largest Internet safety and help group. If you
need help from one of their volunteers, click on the Cyber911 link.